One of the most popular games of 2020 is Among Us online. It's a multiplayer action game that made by Innersloth in 2018. Despite being developed in 2018, the game didn't receive too much attention from many people. This part also resulted in the game not getting too many updates or new content. But that all changed in 2020 when the game suddenly took off and became one of the most popular and played games of the year.
This opportunity gave developers a reason to come up with new content and updates for the game to make it more interesting for its growing population of players. One of the major updates that players can expect with Among Us is that it will have a new map. It means that you will not only be playing The Skeld, MiraHQ, and Polus as maps. There will be a new map added into the gameplay itself which is The Airship. But what can you expect from this new map and when can you start using it in Among Us? Let's discuss all of these things in this article.
Among Us Airship Map: New Map to Explore
Innersloth teased last November that there will be a new map coming to Among Us. Well, during the Game Awards 2020 in December, the developer said what that map is, and they called it The Airship map. This map will be the fourth map that you can use in the game. Unfortunately, the map can't be played yet, and there's no official timetable for its launch, except for early 2021. Though The Airship will not yet be available, it doesn't mean the developers didn't reveal some information about the new map. In this section, we'll discuss some of the new things that you can expect with The Airship.
You Can Now Choose Which Room You Will Start In
One of the new features that the map will provide is that it gives the players the ability to choose which room they want to start in. This option is something that wasn't available before, as players would usually begin the game in the meeting room (or the Dropship in Polus map). But with The Airship, you can choose where you can begin. Of course, you won't be able to start in just any room, as you can only begin in the Engine Room, Records, or Main Hall.
The number of rooms you can begin with may not be that many, but it's still great that this option is present. Of course, this can also be a bad thing, especially if you happen to start the room with an Impostor. This point could lead to an immediate death on your part, but it can still be exciting at the same time. It's because you never know what can happen considering you can't see what rooms others will choose.
New Tasks to Complete
Another new thing that you can expect once The Airship becomes available is new tasks. Suppose you've been playing Among Us regularly. In that case, likely, you've already gotten used to all of the tasks available in the game. You can probably do all of them easily and without any issues. That's why having new tasks can bring a breath of fresh air to the game.
It gives players something new to experience and learns when they play Among Us. Though not many details were shown about the new tasks available, some of it was in the trailer video. The new tasks would include pulling out the trash that didn't fit the garbage chute and cleaning gems. There are likely a few more tasks available. Still, you will have to find out about them once the map officially becomes available.
The Airship Is More Elaborate
Another thing that players can expect when they play The Airship is that it is more elaborate than all the other maps available in the game. What this means is that players won't just be going left, right, and entering doors to access areas or rooms. The new map will have ladders for players to use to go up or down and access certain areas of The Airship.
There will also be elevators or moving platforms to get to other areas on the map. The new map will also have a kitchen and other new rooms types of rooms for players to discover. It looks like a really good map to play the game in. Surely, the Crewmates new areas to explore and Impostors new ways to try and strategize their kills.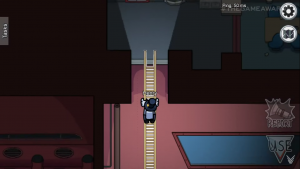 Final Thoughts
If you haven't started playing Among us at all, you better start and try it now. Surely, there's a lot of things that you need to consider like the gameplay guide for players and more. While for those players who have tried playing the game tons of time, get ready because the Airship map will bring new and exciting adventure in the game. Besides, Among Us will spice things up in the multiplayer action game, making it more interesting for players to play. Well, it looks like there's already something to look forward to in 2021 for Among Us fans.